Champions 2021 – Amanda MacCullam
Champions 2021 – Amanda MacCullam
Correctional Officer
Correctional Service of Canada
View more Profiles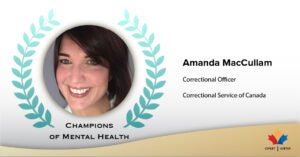 Amanda MacCullam is the coordinator for the Critical Incident Stress Management (CISM) team at the only federal maximum security facility for male offenders in Atlantic Canada. During the pandemic this facility has faced many challenges including an increase in incidents. In February of 2020 Amanda was the only trained CISM officer for the entire correctional officer group, and she responded to the bulk of incidents in the facility.
Amanda has stepped up in the past year and half to work with the institution's leadership, the union, and the wellness action team, to increase awareness of CISM's benefits among staff. Under her leadership the facility now has consistent follow up after each incident.
In her nomination of Amanda, Marla Kavalak said,
"Officer MacCallum takes a personal interest in ensuring that staff at the site feel supported when dealing not only with work related trauma but also personal trauma. Officer MacCallum makes herself available when a Correctional Manager reaches out to her following an incident, and she ensures that the CISM debrief and follow up occur in a timely manner.  As a result of this follow up, last fiscal year the site had seen over 35 officers, who had been off on long term leave, return to the site."
Amanda was inspired to champion mental health because,
"at CSC there are daily challenges that either immediately or over time take a toll on our mental health. Working so closely with so many people in all departments it was obvious to me that so many people were struggling. Seeing those struggles it became very important for me to try and offer some assistance and support."
Amanda has also worked hard to change a culture that suggests you have to "suck it up and be tough". She worked with co-workers to help them understand that talking about emotions does not make you weak, rather, reaching out for help is actually one of the strongest things someone can do. Amanda has shown that through leadership and perseverance you can make a difference in your work place. This passion and commitment make Amanda a Champion of Mental Health.