Champions 2021 – Amber Horsefield
Champions 2021 – Amber Horsefield
Paramedic
Leeds and Grenville Paramedic Service
View more Profiles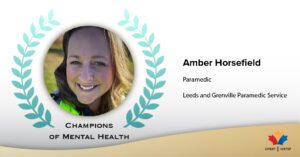 Amber Horsefield knows what it's like to struggle with mental health issues. After attending a call that she says, "broke her", Amber found it difficult to secure the help she needed.  At that time her organization had limited supports available, and as a result she met with a mental health professional who didn't understand her experiences as a paramedic.  Amber, however, persevered, found the help she needed, and was able to return to work. Now she shares her story with her peers to help break the stigma around mental health, and to offer other paramedics in her service, permission not to be okay.
According to Amber, before she began her mental health journey she felt as if she was asked to put every bad call, or incident, into a bottle which was tightly stoppered. Now Amber understands that it is essential for her mental health that she open, and empty out, that bottle.
When asked what supports are needed in PSP organizations, Amber responded, "Grace, acceptance, and assistance," she adds, "it is important for organizations to know their members as people and provide them time to take care of themselves."
Today Amber meets regularly with her therapist to ensure she keeps emptying her bottle. She also finds relief in exercise. She says that when she is lifting weights she doesn't think about anything else. Amber understands that to enable good mental health, it is critical that individuals become involved in activities that they enjoy, activities that allow them to step away from work.
In his nomination of Amber, fellow paramedic Tristian Layer said, "When it came to the idea of a mental health champion, I immediately thought of Amber.  Not only has she shown that focusing on your mental strength and resiliency can make you a successful paramedic, she has also demonstrated that she supports her fellow coworkers, friends, family, and patients."
Amber continues to work on improving her skills as a peer supporter, attending conferences and training, finding new methods and ideas she can use in her own workplace. She is always ready for that three am phone call from a co-worker who needs support, underscoring the fact that she is truly a Champion of Mental Health.