Champions 2021 – Captain Steve Fraser
Champions 2021 – Captain Steve Fraser
Captain Mental Health and Wellness
Vancouver Fire and Rescue
View more Profiles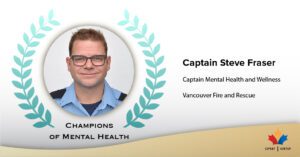 Captain Steve Fraser never dreamed he would become a Champion of Mental Health. When he began his career as a firefighter Steve was just happy to have a job, but as he progressed in his career he found that his work impacted his mental health. Steve also saw fellow firefighters struggling. He decided there had to be a way to create supports that would ensure long healthy careers and retirements for firefighters.
Steve maintains that mental well-being is as important as physical well-being. While PPE can protect your body, training is required to protect your mind. According to Steve education is critical, which is why he has co-designed the program Resilient Minds. Steve felt there was a lack of interventions available, that were based on psychological best practices, and that addressed firefighters' unique needs.  He began working with researchers to evaluate Resilient Minds and ensure that the program was effective. He encouraged feedback so that he could further develop and tailor the program to the needs of firefighters.  This program, which Steve thought would be used exclusively by his fire service in Vancouver, has expanded to firefighter organizations across Canada, including volunteer organizations that have had limited access to such training and support.
Through the development and implementation of training, Steve has started to see a change in the way organizations handle mental health, however, he points out three areas that continue to require needed improvements, these areas are:
mental health training should be prioritized, so that it is available throughout a firefighter's career,
improved access is required to PSP-specific supports and mental health professionals that understand PSP culture, and
more robust benefit plans that support mental health services, need to be developed and available.
Steve also believes that trained peer supports within organizations can play an important role in reducing the stigma associated with asking for help, and can act as a conduit to professional services. He has also seen peers become mental health champions within organizations.
In her nomination of Steve, Leanne McLeod from CMHA said,
"Steve's energy and commitment to his work has shifted the culture in the firefighter world. He broke down barriers to bring a psycho-education program to the largest fire department in BC, and then across Canada. He is an agent of change, and lives to ensure his peers, both in BC and across the country, are resilient, psychologically healthy, and supported. Steve is truly an inspiration. "
It might not have been his original goal, but Steve Fraser has become a Champion for M