Champions 2021 – Chief Derrick Clark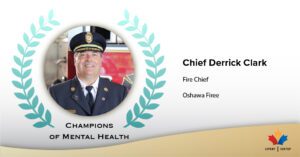 As a firefighter, Chief Derrick Clark has experienced trauma firsthand.  Looking back, he can see how these experiences have helped him to understand the scope of mental health issues faced by PSP.  They have also inspired Chief Clark to focus on ensuring the people in his organization have long, healthy careers. He believes that as Chief, he has a responsibility to use his position to put in place programs and tools which support the mental health of his staff.
Chief Clark knows that stigma is still an issue for many PSP, so he has worked within his own
organization to create a safe space for people to talk about mental health.
According to his nominator Sandra Mackey,
"The Chief also recognizes there still is a stigma associated with members struggling with mental health issues that needs to be removed completely. No longer can the attitude of "its part of the job" or "to show emotion is to show weaknesses" be seen as acceptable. "
Chief Clark points out that it is often difficult to know who may be struggling with mental health challenges. Unlike an injured shoulder where the individual's arm is in a sling, the signs can be hidden if that same individual is struggling with mental health issues. It's why Chief Clark believes in peer support and its ability to offer a safe avenue for discussions about mental health. Chief Clark also knows that access to mental health resources needs improvement. He has partnered with local organizations such as Wounded Warriors, expanding access to mental services such as workshops, retreats, and counselling for his staff.
Chief Clark knows that for improvements to be made in the ability to access mental health supports, leaders need to understand the issues. He believes that leaders must play a central role in establishing programs and supports for their employees.
He also credits his staff, including his nominator Sandra for being the real champions in his organization, noting that their passion and dedication are crucial to his success in improving mental health services.
Chief Clark leads by example, and that has made him a Champion of Mental Health.