Champions 2021 – Constable Amanda Conway
Champions 2021 – Constable Amanda Conway
Police Officer
Brandon Police Service
View more Profiles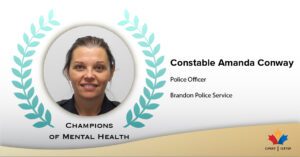 Amanda Conway thought her social work degree would help her relate to people on the street, but its value can be seen in the great work she has done within her organization. Two years after joining the Brandon Police Service, Amanda applied for an open position on the Employee Wellness team. Less than a year after joining the team, she became its Chair. Amanda credits her social work background for her decision to step forward in support of mental health in her organization.
Amanda's education gave her an understanding and awareness of the impact police work can have on mental health. She has been working hard to bring that knowledge to her organization. Through her Project Resilience 911, she also brings it to other PSP organizations in the Brandon area.
Education is really a theme that is woven through all that Amanda has done in her organization. She believes that critical to eliminating the stigma around mental health, are the tools people need to recognize if their mental health has been affected by trauma. For Amanda creating good mental health in her organization is about "promotion, education, and normalization." This means creating a safe environment in which employees can speak out, educating members on signs of mental health difficulties, and normalizing mental health issues in PSP.  In addition, Amanda believes education about PSP mental health should be provided to a much broader group than just PSP. She believes counsellors, therapists, and psychologists should all be educated on the work of PSP, and the impact of that work on PSP mental health. Enhancing mental health professional understanding of this specialized group, Amanda feels, would remove a key barrier to PSP interest in accessing professional help.
Working with PSP families has also been important to Amanda, since they are often the first line of support for PSP. She has focused on providing families with opportunities to learn and participate in the same training offered to PSP.
In his nomination of Amanda, Randy Lewis highlighted a long list of initiatives that Amanda has accomplished in her four years as Chair of the wellness team, ending with the following:
"The Brandon Police Service, its employees, and emergency services personnel from western Manitoba are very fortunate to have Cst. Amanda Conway as part of our work family. Her expertise in the area of mental health, and her desire to improve the health and wellbeing of those around her, make Amanda a worthy recipient of this award."
It's clear Amanda is truly a Champion of Mental Health.