Champions 2021 – Constable Kandice Perry
Champions 2021 – Constable Kandice Perry
Police Officer
Royal Canadian Mounted Police
View more Profiles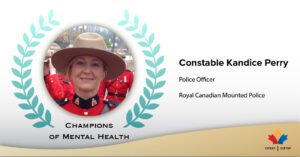 It took Kandice Perry a while to find her voice. As a child in Newfoundland, she had watched a father she loved push down his emotions, turning to alcohol to drown his issues. As a bright young RCMP officer, Kandice could see her father in the people she dealt with daily. She could see how conflicts were born when people were unable to cope with life's downtimes. This awareness inspired Kandice to begin taking psychology classes to help her better understand the people she dealt with daily. At the same time, Kandice juggled the regular policing-caused traumas, while also dealing with the challenge of being a woman in a male-dominated profession. Until 2014, Kandice pushed down her feelings and worked to be stronger and better than her male counterparts. Then, while attending a presentation on PTSD, she realized the symptoms discussed were like a checklist of her own experiences. She reached out to a psychologist and accessed help. As Kandice worked on her own mental health, she pursued her dream of being a Police Dog Handler, and she became an R2MR facilitator. In 2017 she had a setback, when an injury left her feeling crushed. Depression, anxiety, and pain overwhelmed her ability to cope, and she found herself contemplating suicide. On one of her lowest days, her small daughters made her realize she needed to pick herself up and get help. This time the help came in a furry package. Kandice reached out to the Courageous Companions program and found support. Charlie, a dog, came into her life, and Kandice found her voice working to justify the importance of service animals in support of mental health.
When asked why it's vital to step up to support mental health within an organization, Kandice responds:
"First responders are society's filters. We see people at their worst. We see death and gore. In the past six years, Fort McMurray has been through the wildfires, the economic recession, floods, and a state of emergency during the pandemic. Throughout all of these catastrophic events, first responders have answered the call. So many of us are walking around damaged, and if we do not feel safe enough within our own organization to come forward and seek help, then the organization is failing. Losing one police officer to suicide is too many. The culture needs to shift from what can I get out of my employees, to how can we better serve our employees?" 
To Kandice, support programs must be created and implemented by frontline members, so that a sense of trust can be built. In her RCMP career she has seen her organization move forward by leaps and bounds in improving mental health supports. She would, however, still like to see additional resources for young women entering the profession, so that they can be supported while having a career and a family.  Kandice knows that no one should suffer alone, which means a solid support system is crucial. She credits her husband, a fellow first responder, for his unwavering support, and the unconditional love and understanding he has provided her.  During her lowest points, Kandice felt like no one cared. When she was off with injury, she became afraid of returning to work, so she developed the "Buffalo Debrief," a newsletter that helps shine a light on mental health and works to build community in her workplace.  She designed the newsletter, "To build a bond through information and events. Even if you are not talking to anyone or haven't been in the office, the information is out there for you to engage in whenever you are ready."
Kandice's nominator points out how she and Charlie continue to educate on the value of service dogs, demonstrating another treatment method available to first responders. Kandice's compassion and her journey to help others have made her a Champion of Mental Health.