Champions 2021 – Corporal Dawn Langevine
Champions 2021 – Corporal Dawn Langevine
Federal Policing Investigator
Royal Canadian Mounted Police
View more Profiles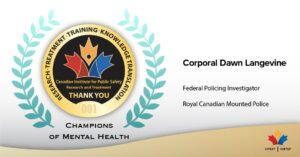 According to her nominator, Corp. Neil Vaid, Dawn Langevine works in one of the most challenging investigative units from a mental health standpoint, that being the National Child Exploitation Crime Centre (NCECC). Corp. Vaid goes on to say, "she has demonstrated outstanding leadership and a proactive approach to mental health."
As a person of colour, Dawn brings a unique experience to her role as a peer supporter working to provide assistance and guidance to other BIOPOC officers.  She co-founded the Depot Outreach team at the RCMP training academy to support new cadets. The program is designed to assist BIPOC cadets who wishes to speak with a member in the field who comes from a similar cultural, ethnic, linguistic background.
When asked about the importance of individuals stepping up for mental health, Dawn said,
"I believe it's important for people within an organization to step up for mental health because everyone needs to have and/or find their voice. The minute an individual steps up, they're making it easier for another to feel safe and open about their own experiences. Having a voice, even when it shakes, shines light on a crowd of individuals suffering in the dark. It brings awareness to barriers, challenges, and pain that can go unnoticed. When people step up, it brings hope to the possibility of a solution and/or a support system to be formed. But most importantly, it causes awareness. "
For Dawn, getting involved is also about educating the people around her on how mental health can vary. There is no one way with mental health. By providing education, even those who might not currently be struggling with mental health issues are empowered with the ability to be more self-aware.
Through her work as a peer supporter, Dawn has helped to combat the stigma around mental health. Dawn's contributions are making a positive impact on those she works with and the RCMP as a whole. These impacts have been felt especially with BIPOC officers who are often deployed to areas where they may be the lone person of colour. Through her commitment to reducing stigma, and her work as a peer supporter, Dawn shows that she is a Champion of Mental Health.