Champions 2021 – Courtney Benner
Champions 2021 – Courtney Benner
Communications Operator
Niagara Regional Police Service
View more Profiles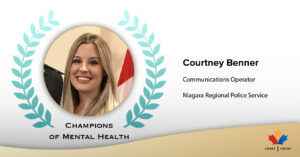 Communicator Courtney Benner was inspired to help others because of her own experience as a 911 Dispatcher.  In her role she faced several traumatic incidents that impacted her mental health. Through her own journey, Courtney saw the benefits associated with seeking help. She understands the importance of trauma survivors speaking out so others can begin to feel comfortable seeking help.  She says it's all about normalizing the experience.
After her own trauma experience, Courtney began actively helping others to reintegrate into the workplace. In her nomination of Courtney, Krista Neilson stated that Courtney was the first person who came to mind when she saw the nomination call for Champions of Mental Health. Krista sees Courtney's dedication to others in the little things she does, such as dealing with tricky scheduling, working on her days off, and sacrificing preferred tasks so she can support another member of the organization during reintegration.
Courtney has seen significant improvements in her workplace's approach to mental health during her years on the job. She has found that sharing her own story has been an effective tool in accessing support for others. Sharing how she sought help has also worked to reduce the stigma around seeking professional mental health services for others. She hopes that when she shares her story, people see someone who has experienced and overcome, trauma.
Courtney believes in the importance of reintegration for communicators, because it allows for a gradual return to work, and it can be customized to the individual. She has seen the benefits of reintegration and is proud to be a part of its success in her workplace.
Through her willingness to share her own story for the benefit of others, Courtney has shown she is a Champion of Mental Health.