Champions 2021 – Jeremy Fine
Champions 2021 – Jeremy Fine
Communications Operator
Toronto Police Service
View more Profiles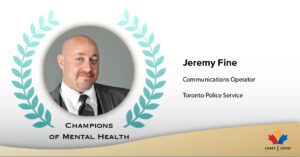 Jeremy Fine reached a tipping point 12 years into his career, when he lost a co-worker. He realized that he had been to a lot of funerals for co-workers. Curious about why this might be happening, Jeremy did some research and was stunned by the mental health impacts of critical incidents. His findings were something he had never encountered in his training. It was as a result of this research that Jeremy decided to become a voice for his fellow communicators, sharing what he had learned so that they could understand the impact of their work, on their health.
Jeremy has also put his knowledge to use as a peer supporter and R2MR trainer. When he supports or trains someone, he tries to help them understand that mental injuries are just like physical ones; they exist, are legitimate, and deserve to be treated without judgement. Jeremy believes that the more organizations reinforce this message through training and policy, the easier it will be for PSP to access the growing list of available supports.
In her nomination of Jeremy, Monica Di Tollo highlighted Jeremy's efforts in co-creating a wellness tab on the internal website site of his employer. This wellness tab is accessible to all communications operators. "This site is designed to provide members with information on how to maintain mental and physical well-being.  It contains information on PTSD and how to recognize symptoms of it, as well as links to many organizations designed to help people achieve better mental health." Jeremy has also developed a communications wellness library, "which provides books specifically tailored to help communications operators cope with the stresses inherent in their duties."
Jeremy is sure to point out the unique nature of communications work. On any shift, there is a possibility that an operator could face 10-15 calls which could be considered critical incidents. Calls are constantly in queue with the chance that a critical incident call will be followed by a call about an argument between neighbours over snow shovelling. Jeremy says it can be like "death by a thousand cuts" for an operator's mental health.  But even with all of these stresses, communicators like all PSP, can be slow to reach out for help. Jeremy sees two clear reasons for this: stigma, the idea that you signed up for the job, so suck it up, and the need to help others which is why most people get into PSP work.
Jeremy knows the tool most crucial in combatting these concerns is fact-based information, delivered, if possible, by a fellow PSP. The message needs to land with PSP for it to get through, which is why Jeremy feels privileged to use his voice to help other PSP, and it is why he is a Champion of Mental Health.