Champions 2021 – Lorraine Downey
Champions 2021 – Lorraine Downey
Primary Care Paramedic and Peer Support Team Coordinator
Ottawa Paramedic Service
View more Profiles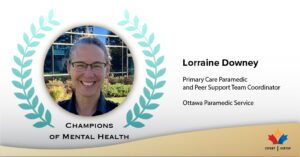 An experience early in her career, inspired Lorraine Downey to become a Champion of Mental Health. Lorraine regularly saw co-workers "disappear" – one day they would be at work, and then months would go by, and they would not return.  Lorraine had no idea why they were gone, whether they had access to resources, or if there was anything that could be done to help them.
It was the concern about this silent disappearance which drove Lorraine to apply for, and be accepted to, her Paramedic services' CISM team.  This team has been expanded to a more proactive model than previously existed, and which features peer support for all staff, not only frontline paramedics.
Lorraine knows that every member of an organization is vital in supporting mental health. Even with extensive mental health supports, de-stigmatizing help-seeking is necessary to ensure people feel confident to try the programs offered by the organization.  Lorraine knows that mental health support doesn't end with the organization. As a daughter, wife, and sister of PSP, Lorraine understands that having PSP in her family impacts her, just as her work has impacted her family. Still, she also experienced the benefits of her family understanding her work, which is why she created friends and family nights for her organization.  These nights facilitate increased understanding of PSP work and explain details that PSP may take for granted. The program really takes the mystery out of the PSP role for the families and friends who attend, and helps them prepare to offer support.
In his nomination of Lorraine, Chief Pierre Poirier noted that Lorraine is "an authentically kind and compassionate human being. She is empathetic, caring, and open-minded. She has a genuine interest and passion for helping others, and a gentle, calm disposition that is inherently inviting and supportive." These thoughts were echoed in many quotes, from other members of her service, included in her nomination.
This passion for helping others can be seen in Lorraine's proactive approach. Lorraine says,
"The most effective tools are the ones you have in place before you need them. These are the ones you actually reach for and have built into your life to provide support, comfort, and even laughter when you are in a tough place, or just after a tough week.  Be open to trying new things, and not just once; I learned it can take many attempts. The tools you have may not work as well as they used to. Take time to evaluate what is and isn't working. "
Lorraine's work extends beyond her own organization. In recent years she has partnered and collaborated with other organizations in her city, to provide more services and training opportunities for her peer support team. Even with the increased need for support because of COVID, Lorraine and her team have continued to step up for mental health, adapting to continue providing much-needed support, making Lorraine a solid candidate for Champion of Mental Health.