Champions 2021 – Marc Filiatrault
Champions 2021 – Marc Filiatrault
Correctional Officer
Correctional Service Canada
View more Profiles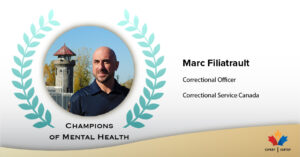 For correctional officer, Marc Filiatault being diagnosed with PTSD was hard to accept. He was angry that he would have to wear PTSD like a label, but as he moved through his treatment he realized that sharing his experience was essential to his peace of mind. In 2017 Marc participated in a documentary produced by the union of Canadian Correctional Officers. In the documentary, Marc was open about the incident that triggered his PTSD, and how he sought help.  Breaking his silence and the stigma around talking about PTSD granted him inner peace, and it allowed him to turn the page on a dark period in his life.
Now Marc feels that everyone in the organization is responsible for ensuring the good mental health of a colleague. He believes that many public safety organizations have supports available, so it is essential to be able to recognize when a colleague is in distress, and to ensure they know about the accessible supports.
After his own experience, Marc believes that talking is the most effective tool available to support mental health.  A willingness to be open, to share both emotions and negative thoughts, has been vital in Marc's healing journey. When he works with others, he encourages the same openness.  Marc has felt the impact of sharing his story. He has seen lives change as people have stepped forward to share their own mental health journeys.
For Marc sharing his story with colleagues and through the documentary has been a life-changing experience. He has had the opportunity to speak to government officials about mental health supports for correctional officers, and he has been able to help his peers find the support they need. Being active in support of mental health has given Marc pride, and it has encouraged him to keep fighting for this cause which is so close to his heart. Marc's openness is what makes him a Champion of Mental Health.
If you are interested in hearing Marc's story, you can view the video Working on the edge/ Travailler au bord du gouffre using this link (https://www.youtube.com/watch?v=LcWiF_fQwEw); please note there are scenes of violence and the subject matter may be triggering.