Champions 2021 – Sergeant Akhasone Samonekeo
Champions 2021 – Sergeant Akhasone Samonekeo
Federal Policing
Royal Canadian Mounted Police
View more Profiles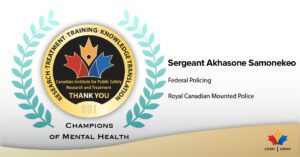 Akhasone Samonekeo became a police officer to help people, never realizing that sometimes it is police officers that need help. When Akhasone joined the RCMP, he was older than the other trainees in his troop. He found this led other members to come to him for advice. Over time he noticed a lot of the advice they were seeking was similar, so he decided to step up and become educated about the supports available for fellow members. His hope was that by becoming informed, he would be able to help without causing any unintentional harm.
These first steps led Akhasone to become part of the peer-to-peer program, established at the RCMP in 2016. When asked why it is important for people within organizations to step up for mental health Sgt. Samonekeo answers simply, "Stigma." In his opinion, the more people that stand up for mental health, the better, even if they have not experienced mental health struggles. Ahkasone has begun to see a shift in his workplace. There are more supports than before, but he still sees that there is a hesitancy to use the available resources.
In her nomination of Akhasone, Karla Kincade said that Akhasone "has spent years working tirelessly on raising awareness, removing stigma, and delivering support services for mental health issues."  This tireless pursuit of improvement can be heard in Akhasone's voice as he talks about the education and myth-busting needed to create a safe environment in which people can share their mental health concerns. For Akhasone, it is not just sworn members who need support; he sees non-sworn members who are impacted by their work. The solution, according to Akhasone is the same for each person – find out what they need, and what supports are going to help them create harmony between their work and personal lives.
Karla has seen the impact of Akhasone's commitment:
"Sgt. Samonekeo was the first person I heard in my organization speak of mental health issues publicly in work settings and, by doing so, changed the culture on my team by removing the stigma associated with these discussions."
For Akhasone, these hard conversations are more than just checking a box. They are a way to break down barriers, which is why he is a Champion of Mental Health.