Champions 2021 – Sergeant Jagdeep Soin
Champions 2021 – Sergeant Jagdeep Soin
Peer to Peer Coordinator National Headquarters
Royal Canadian Mounted Police
View more Profiles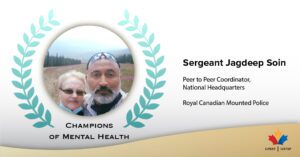 It wouldn't be an exaggeration to say a peer supporter saved Jagdeep Soin's life. At his lowest point, Jagdeep reached out to a peer supporter through Badge of Life Canada. It was a coffee with a retired Ottawa police officer that set him on his journey to recovery. This moment inspired Jagdeep to become a peer supporter within his organization, the RCMP, and a volunteer with other organizations in the Ottawa area. It also led him to champion the creation of the peer-to-peer program at the RCMP national headquarters. It was simple, the RCMP needed to understand the costs of operational stress injuries (OSI), so he made a case showing that productivity could be increased if more support was offered.
Since he began to work as a peer supporter, Jagdeep has seen changes in the RCMP. More supports are available, and more people are willing to talk about their experiences, but Jagdeep knows that stigma remains. To combat this stigma, he suggests education at every level of the organization about mental health. Specifically, what is an OSI, and how do you access help when you need it? Jagdeep believes this education is essential at every level, from cadets through to the Commissioner.
This education also means that you can be proactive about mental health. Jagdeep's nominator Phillipe Cyr described it this way:
"What separates Jag from other Peer advisors is his preventative maintenance program. Once you meet Jag, and you talk to him, you enter into a healthy relationship that never expires. I really don't know how he does it, but he calls people on a regular basis, including myself, wondering how they're doing. He reminds people to take time off, to do something for themselves and to maintain a healthy lifestyle.  Although Jag currently works for the RCMP NHQ's Peer to Peer unit, everyone recognizes Jag as the face of the program."
When asked to recommend tools beyond peer support, Jagdeep points out the benefits of networking with other organizations and community groups. Networking helps build knowledge and creates a map of services for people that need support. Through his network in Ottawa, Jagdeep has been able to provide access to more education, training, and services for the people he supports.
Jagdeep admits coming forward with his story has changed the direction of his career but being a Champion of Mental Health has given him a new purpose.
"I've seen too much suffering and watched colleagues die, who could have been saved if they had had someone to talk to, someone who told them, I been through a similar journey. Doing this work, you see the difference you make and the lives you save."