Champions 2021 – Sergeant Joy Prince
Champions 2021 – Sergeant Joy Prince
Peer to Peer Coordinator "F" division
Royal Canadian Mounted Police
View more Profiles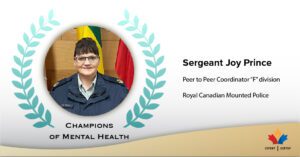 Joy Prince doesn't think she deserves this award. Joy doesn't think of herself as a Champion of Mental Health, even though she accepted a position as the first peer-to-peer coordinator in her division. She sees her contributions to her fellow RCMP members as only doing her job.
Her nominator Rhonda Blackmore disagrees, saying,
"Joy started in the inaugural "F" Division Peer to Peer Coordinator's role in 2015 with an affinity for helping others. Through her stalwart character, Joy has evolved the program into a nationally recognized best practice, based on her empathetic listening and being a compassionate human being. She promotes the sense you are not alone, encouraging the idea that there is no shame in reaching out, and we are in this together. Sgt Joy Prince embodies the spirit of the Mental Health Champion award."
Joy sees the goal of her job as improving the days of others, making it a little easier to reach out for help after dealing with a bad call. Joy admits that when she started working with the RCMP, mental health was not commonly discussed, but she has seen a shift during her time as a peer-to-peer coordinator. When she began, she would reach out to people after being briefed about a bad call; now, members call her to tell her they had a bad call. When they do call, Joy tries to pull out all the stops to get them the help that best suits their needs. She credits the people she works with, and her fellow peer-to-peer coordinators from across Canada, for providing a collaborative atmosphere which enables her to bounce ideas around in support of members. She sees this broad ability to collaborate as a benefit of working with a large organization. Another advantage she's found is the structures that allow leadership to see trends in members support needs. Joy appreciates the variety of tools like Lifespeak and SOSI she can offer to those who reach out for help, though she would still like to see more psychologists trained to understand PSP issues.
She knows there is still work needed in making mental health mainstream, but she has a vision that she hopes can eventually be achieved – she hopes for,
"Organizations in which speaking about your mental health is as easy as speaking about your physical health, and a stigma-free work environment."
By working towards this vision, Joy is championing mental health in her organization, but don't call her a Champion.
"I just feel privileged to be the person people called when they need support. It is an honour to have their trust, and to support them during their hard times."
Joy may not want to be called a Champion of Mental Health, but CIPSRT is privileged to give her the title.