Champions 2021 – Sergeant Shelby Miller
Champions 2021 – Sergeant Shelby Miller
Employee Management Relations
Royal Canadian Mounted Police
View more Profiles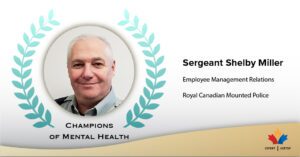 Shelby Miller understands that struggling with mental health issues can be isolating, especially in the Far North, where mental health services are harder to access. In 2018 the RCMP realized it had a weak footprint in terms of mental health support offered in the territory. Officers and civilian members were suffering from a lack of support.  Shelby was tasked with reviving the peer-to-peer program in Nunavut. Working with a psychologist, Shelby sought to develop and implement a strong program that could support all members working in the expansive territory.
Shelby had experienced his own mental health struggles in the past, and he understood what other members might be facing.  He had found that having a conversation with someone at the right time – Being able to "Talk it Out", to be among the most effective tools in supporting mental health.
It was because of these experiences that Shelby has focused on building trust and reducing stigma. He wanted members to feel free to vent about their experiences, knowing that someone was there to listen.  For Shelby communication is vital.  The peer-to-peer program in Nunavut has grown to ten volunteers who have all been trained to listen to member concerns, and to provide guidance and support.  Shelby also helped implement a policy which requires members working in the high arctic to receive a mandatory psychological evaluation if they wish to extend their tenure in the north. This process ensures that the safety of members and the public is preserved.
Shelby also recommends exercise as part of maintaining good mental health. He believes the ability to engage the body to clear the mind is essential. For Shelby, a key to good mental health is being ready to clean out your mental filing cabinet, which means trusting the people who are there to support you.
In his nomination of Sgt. Miller, Denis Savard said Shelby has been instrumental in ensuring the well-being of RCMP members in Nunavut's 25 detachments.  CIPSRT agrees and is proud to have Sgt. Shelby Miller as a Champion of Mental Health.