Champions 2021 – Shawn Saran
Champions 2021 – Shawn Saran
Acting Manager Commercial and Trade Branch
Canadian Border Services Agency
View more Profiles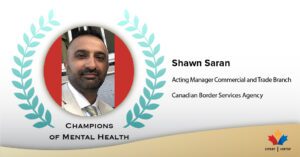 Shawn Saran, an acting Manager with the Canadian Border Services Agency (CBSA), is passionate about his workplace's employee assistance program (EAP). After experiencing mental health issues in his own family, including trying to find support for his son, who was diagnosed with autism, Shawn was ready to step up when a spot opened up on his regional mental health advisory group. Shawn began his career in the public service, working in corrections before moving to CBSA. In both organizations, he saw EAP as just a card or pamphlet in the breakroom, so when he moved into a management role, Shawn decided to pick up the phone and see what EAP had to offer. What he found was a service with many underutilized supports.
Shawn found that the stigma associated with the need for mental health supports, impacted the number of people reaching out to use EAP services. According to his nominators, Shawn has worked tirelessly to battle the stigma around mental health, by being open with his own struggles. Shawn received no support through his son's autism diagnosis, and he didn't want that for others, so he began to promote the benefits of the EAP program. He also helped create a monthly mental health newsletter, designed to support management in having mental health conversations with their staff. Through these conversations, stigma about coming forward with mental health issues can be reduced.
In April of 2021, Shawn experienced a significant health scare. A sudden severe heart attack left Shawn and his family in need of support, not only physically, but also mentally and emotionally. Shawn reached out to EAP for that support. When he returned to work, he shared his story and ensured that EAP was there if anyone else wanted to reach out for support.  One of Shawn's nominators said this experience shows why Shawn is a Champion.
"Shawn says if he can have the conversations with others, it shows that we are all vulnerable, and that we should not take our health for granted. He shared what this experience meant for his own mental health and how it impacted his loved ones. Shawn demonstrates humanity in his daily interactions with people. Shawn's personal experiences make him a very compassionate and giving individual.  He genuinely cares about people."
Shawn is not done making an impact. He wants to see more supports for those workers who fall into the middle of the organization, those who not only need to protect their own mental health, but also need help to care for the mental health of those they supervise.  This commitment shows why Shawn is a Champion of Mental Health.