Champions 2021 – Tara Mayne
Champions 2021 – Tara Mayne
Regional Coordinator EAP &CISM programs
Correctional Service of Canada
View more Profiles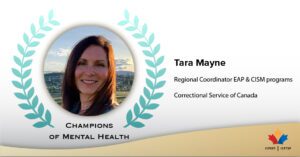 Tara Mayne is bringing creativity to her role as regional coordinator for Correctional Services of Canada's (CSC), Employee Assistance (EAP) and Critical Incident Stress Management (CISM) programs. Not only does Tara support the volunteers for these programs she is also trying to move beyond her job requirements to provide a variety of supports to the corrections workers in her region.  Though she thinks it might be cliché, Tara believes that people are everything in an organization like CSC. She says the well-being of CSC employees allows the organization to provide the critical services necessary for the protection of all Canadians. Tara also recognizes that there are many different types of jobs at CSC, so she sees a huge need for varied supports that augment what can be provided by the two programs she oversees.
Tara has realized that large organizations must move beyond a one size fits all approach to offering mental health supports. She believes that leadership must check in with employees to ensure the supports available are flexible enough and can adapt to changing situations, such as those seen during the COVID-19 pandemic. Tara embraces finding new ways to procure support for people. She connects with community organizations to offer new opportunities for employees to attend workshops or programs. By pushing employees outside their comfort zone, she has seen people flourish. Tara also believes this kind of individual attention demonstrates the value the organization places on the work of its employees, which builds trust and enables people to be more open when they are struggling.
One of Tara's nominators, Jamile Amery, said, "In being promoted to the role of Regional Coordinator of EAP/CISM programs, Tara brought to that role an outside-the-box way of invigorating the program, by focusing first on the psychological well-being and needs of 16 peer support teams."
Tara's out-of-the-box thinking was tested during the COVID-19 pandemic as regular programs could no longer be offered.  She mobilized ideas such as  wellness tents at locations where outbreaks had occurred.  These tents brought peer supporters and union representatives together, providing workers an opportunity for a needed moment away from the stress. She has also partnered with St. John's Ambulance to bring therapy dogs to her sites. Tara understands that just a simple thing like 15 minutes with a dog can have a positive impact on mental health.
Tara's out-of-the- box thinking continues, with her nominator pointing out that she is now working to bring music therapy to her sites. This dedication to creative approaches in support of mental well-being is why Tara is a Champion of Mental Health.