News & Events
May 1, 2022
CIPSRT announces new Sleep 101 Course
Keywords: Mental Health, Sleep
Poor sleep can impact your physical and mental health.  This is why the Canadian Institute for Public Safety Research and Treatment has partnered with Dr. Colleen Carney, Director of the Sleep and Depression Laboratory at Toronto Metropolitan University, to develop a sleep course for PSP. The course Sleep 101 will start its first offering on May 25, 2022.
The sleep course was developed in response to research that showed in samples of public safety personnel (PSP) the majority reported symptoms consistent with insomnia.  PSP also consistently get less sleep than the general population Research has also shown that structured sleep education provided to PSP can help improve their sleep.
The virtual, four-part sleep course is designed for all PSP and is offered free of charge. The first session is mandatory for anyone that wants to take the remaining sessions.  Those who complete the first session may then choose to participate in some or all three of the additional sessions, depending on which elements of sleep they want to explore.
Each session will feature a discussion led by Dr. Carney, and an opportunity for interactive activities and questions.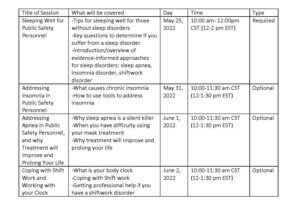 All sessions offered are available in English only.
Space is limited for this virtual course, and we have set aside seats for each PSP sector to ensure an equitable distribution of seats. Registration will be on a first-come, first-serve basis for each sector's reserved seats until May 16, 2022 when there will be open registration.
Please note these sessions will not be recorded. Participants must be able to attend on the date and time listed above.