Posttraumatic Stress Disorder (PTSD) Awareness Month-2022
Posttraumatic Stress Disorder (PTSD) Awareness Month-2022
PTSD – Stigma Out, Understanding In
In Canada it is estimated that up to 2.3% of the population is dealing with PTSD at any moment. Research done through the CIPSRT consortium shows that number may be over 23% for public safety personnel (PSP).  Along with struggling with symptoms of PTSD, PSP may also feel the weight of stigma from their co-workers, organizations, or the public. Lack of understanding of PTSD can lead to the idea that those that struggle with PTSD are weak or unfit for duty.  This stigma can stop those who are suffering from seeking help or asking for support. Understanding the reality of symptoms and debunking myths about PTSD can help improve the lives of people who are struggling.
This year for PTSD awareness month CIPSRT wants to get Stigma Out and Understanding In. Together we can show that  while PTSD is often invisible, it is not invincible.
Join us for our 3rd annual #WearTealChallenge. Last year organizations and individuals from across Canada wore teal to show their support and raise awareness for individuals living with PTSD.
Defining Stigma
Stigma– stereotypes or negative views attributed to a person or groups of people when their characteristics or behaviors are viewed as different from or inferior to societal norms (Dudley, 2000).
Structural Stigma – Defined as societal-level conditions, cultural norms, and institutional policies that constrain the opportunities, resources, and wellbeing of the stigmatized (Hatzenbueler, 2016).
Events for PTSD Awareness Month
June 7th– Forum on the future of PTSI and PSP– Members of CIPSRT's Academic, Research, and Clinical Network are invited to gather for this forum on the Future of PTSI research for PSP. Not a member? Check out our information page to see if you are eligible and apply to join!
June 9th– Building Individual & Organizational Resiliency Pathways-Join Dr. Katy Kamkar Ph.D., C. Psych. from the Centre for Addiction and Mental Health (CAMH) in Toronto for this special live session which will cover building resiliency on an individual and organizational level- Register here!
June 23rd– Finding a way forward: The unexpected feeling of growth that can come after trauma– Join Samantha Horswill a Registered Doctoral Psychologist as she explores what posttraumatic growth is – and what it isn't! – Register Here!
This year we want to make the event even bigger so post your photos on June 27th and tag CIPSRT.
Facebook: @CIPSRT-ICRTSP
Twitter: @CIPSRT-ICRTSP
LinkedIn: @CIPSRT-ICRTSP
We've made posting easier! Just use one of the images below to support us on social media.
Download Social Media Toolkit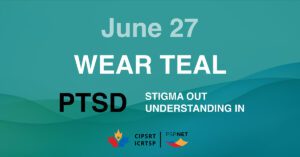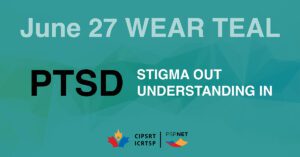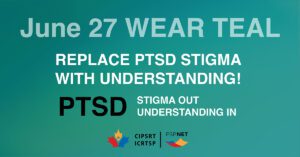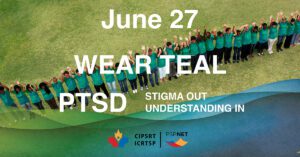 Tools
Want to learn more about PTSD? Take a few minutes to watch PTSD: The Basics
Many Public Safety Personnel (PSP) feel alone when facing mental health challenges. Their concerns about stigma can prevent PSP from reaching out for support. Co-workers can be a source of support since they understand the pressures and stressors of PSP work. However, many co-workers don't know where to begin helping someone struggling with mental health issues. That is why the Canadian Institute for Public Safety Research and Treatment, in partnership with the clinical team at PSPNET, has developed a guide.
Poor sleep can impact your physical and mental health. Research has shown in samples of public safety personnel (PSP) that the majority reported symptoms consistent with insomnia, and PSP consistently get less sleep than the general population (Angehrn et al., 2020; Cramm et al., 2021). Research has also shown that structured sleep education provided to PSP can help improve their sleep (Nakada, Sugimoto, Kadotani, & Yamada, 2017; Sullivan et al., 2021). CIPSRT is happy to provide this tool kit and we will have more Sleep 101 sessions in the Fall.
Designed to provide free education and guidance on effective techniques specifically focused on managing symptoms of posttraumatic stress disorder. The PSP PTSD Course helps PSP with thoughts, behaviours, and physical symptoms related to posttraumatic stress disorder.
What is Posttraumatic Stress Disorder?
Posttraumatic Stress Disorder (PTSD) is a group of symptoms people might develop after experiencing a potentially traumatic event.
PTSD Symptoms after Trauma
There are four types of PTSD symptoms a person might experience after being exposed to a potentially traumatic event.
Re-experiencing symptoms
A hallmark symptom of PTSD involves re-experiencing the traumatic event. This may occur in the form of unwanted and upsetting memories of the event or repeated and distressing nightmares. Some people have a more intense re-experience of events called "flashbacks," where they might feel like they are actually experiencing the trauma again.
Avoidance symptoms
Avoidance symptoms include a strong urge to stay away from reminders of a potentially traumatic event. These reminders might include people, places, objects, or activities which are related to the trauma in some way. Some people also go out of their way to avoid thinking or talking about the event.
Changes in thoughts and mood
Potentially traumatic events can change how people think about themselves, other people, and their world. The changes can include feeling hopeless or detached from loved ones or having difficulty experiencing positive emotions – or even sometimes having any emotions at all. Such changes might indicate PTSD, especially for people who were formerly a 'positive' or 'realistic' person but have become increasingly 'negative' after a potentially traumatic event.
Changes in physical and emotional reactions
Potentially traumatic events can also cause significant distress and physical symptoms. People can become more watchful, on guard, easily startled, or frightened. Difficulties sleeping or trouble concentrating can be caused by diverse stress, up to and including traumatic stress. In addition, potentially traumatic events can cause increased feelings of anger, irritability, shame, or guilt.
Many people can experience some of the above symptoms after a potentially traumatic event; nevertheless, for most people the symptoms fade within a couple weeks.
If someone experiences several of the above symptoms from each of the four groups for longer than a month, and the symptoms are extremely distressing or interfere with work, relationships, or other important areas of life, they may be experiencing PTSD and may benefit from appropriate mental health care.
If you are worried about your mental health or the mental health of a loved one, you can use our anonymous self-assessment tool.
What is a potentially traumatic event?
When a mental health professional is evaluating whether someone has PTSD, they often consider the experience or situation thought to have triggered the symptoms. A traumatic event is different than normal daily stress or pressure. Potential traumas usually involve experiencing or witnessing severe injury, feeling that your life or somebody else's life is in danger, or witnessing an intentional or accidental death. Events such as natural disasters can also be traumatic.
The kinds of potentially traumatic events that can lead to PTSD are often experienced in person-but not always. For example, some work involves repeated exposure to stories of injury or death, such as being a call-centre operator for 911 or a crime scene photo developer for a police unit.
Not everybody who experiences a traumatic event develops PTSD. Indeed, in the North American general population most people (i.e., 50-90%) will experience one or more potentially traumatic events during their lifetime; however, relatively few (i.e., 5-10%) will develop PTSD. Even people who are in careers where exposure to potentially traumatic events may be more common, like public safety personnel (PSP), are not necessarily going to develop PTSD. There are responses to potentially traumatic events that can be considered fairly normal. For example, you might feel unsettled or uncomfortable at first, but most people recover and return to normal within a few days; however, some people do go on to have longer-lasting challenges after experiencing a potentially traumatic event.
Research that explores exposure to trauma, PTSD and treatment in PSP
Want to know more about how PSP are exposed to trauma, the prevalence of PTSD, or what kind of treatment PSP seek?
Below are research summaries of some of the studies conducted through the CIPSRT-CIHR consortium that aims to answer these questions.
Programs that support PSP mental health
CIPSRT hosts monthly virtual town halls that highlight, issues, treatments, and programs in PSP mental health. Below are a few town halls from this year that highlight some programs from across the country that are making a difference to PSP mental health.