R2MR Train the Trainer Program – Edmonton, AB
R2MR Train the Trainer Program – Edmonton, AB
November 21 – 25, 2022
The city of Edmonton is located on the ancestral and unceded territory of the Cree, Saulteaux, Niisitapi (Blackfoot), Métis, and Nakota Sioux Peoples. The land on which we gather resides on Treaty 6 territory; a traditional meeting ground and home for many Indigenous Peoples. We respect the histories, language, and cultures of First Nations, Metis, Inuit, and all First Peoples of Canada, whose presence continues to enrich our vibrant community.
We acknowledge the importance of this land to reaffirm our commitment and responsibility in improving relationships between Nations and improving our own understanding of local Indigenous peoples and their cultures.
Program Venue
Accommodations
Hotel / Venue Address
10135 100th Street, Edmonton, Alberta, Canada, T5J 0N7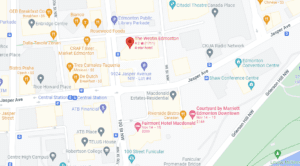 Directions / Transportation
Getting to The Westin Edmonton Hotel

It is a 36-minute drive from YEG to The Westin Edmonton
Paid parking is available in the hotel underground and back lot (based on availability).

Transportation Options Available

bus
Light rail
paratransit
Uber
Taxi
E-Scooter
Tourism
Time Zone
November Weather
Average: -6 °C
Average Low: -11 °C
Average High: -1 °C
COVID-19
Please stay at home if you are experiencing symptoms of COVID-19 and follow current Government of Alberta recommendations for isolation if you are experiencing symptoms.
Existing Taxes
GST — 5%
MRDT — 4%
DMF — 3%
Restaurants Nearby
Share Restaurant ($$$)
Location: on site
Cuisine: Canadian
Open:

Sunday — 7:00 am – 11:00 am & 12:00 pm – 2:00 pm & 3:00 pm – 10:00 pm
Monday – Friday — 6:30 am – 10:30 am & 11:30 am – 1:30 pm & 3:00 pm – 10:00 pm
Saturday — 11:00 am & 12:00 pm – 2:00 pm & 3:00 pm – 10:00 pm
Woodwork ($$-$$$)
Location: 2-minute walk
Cuisine: Canadian, gluten free options
Open: 

Sunday — Closed
Monday – Thursday — 5:00 pm – 11:00 pm
Friday & Saturday — 5:00 pm – 12:00 am
Tres Carnales Taqueria ($$-$$$)
Location: 3-minute walk
Cuisine: Mexican, Latin, Central American
Open:

Sunday — Closed
Monday – Friday — 11:00 am – 10:00 pm
Saturday — 4:00 pm – 10:00 pm
Bianco ($$-$$$)
Location: 2-minute walk
Cuisine: Italian, Pizza
Open:

Sunday — 4:00 pm -10:00 pm
Monday – Thursday — 11:00 am – 10:00 pm
Friday & Saturday — 11:00 am – 11:00 pm
The Underground Tap & Grill ($$-$$$)
Location: 1 minute walk
Cuisine: Bar, pub, fusion
Open:

Sunday — Closed
Monday & Tuesday — 11:00 am – 11:00 pm
Wednesday – Friday — 11:00 am – 12:00 am
Saturday — 12:00 pm – 12:00 am
Coffee Nearby
Credo Coffee ($$)
Location: 2-minute walk
Open:

Sunday — 9:00 am – 4:00 pm
Monday – Friday — 7:00 am – 5:00 pm
Saturday — 8:00 am – 5:00 pm
Timothy's World Coffee ($)
Location: 5-minute walk
Open:

Sunday — Closed
Monday – Friday — 6:45 am – 3:00 pm
Saturday — Closed
Second Cup ($$)
Location: 2-minute walk
Open:

Sunday — 1:00 pm – 5:00 pm
Monday – Wednesday — 9:00 am – 6:00 pm
Thursday & Friday — 9:00 am 7:00 pm
Saturday — 9:00 am – 6:00 pm