R2MR Train the Trainer Program – Halifax, NS – Cohort #2
R2MR Train the Trainer Program – Halifax, NS – Cohort #2
October 31 – November 4, 2022
The city of Halifax is located on the ancestral and unceded territory of the Mi'kmaq People. This territory is covered by the "Treaties of Peace and Friendship" which Mi'kmaq Wəlastəkwiyik (Maliseet), and Passamaquoddy Peoples first signed with the British Crown in 1726. The treaties did not deal with surrender of lands and resources but in fact recognized Mi'kmaq and Wəlastəkwiyik (Maliseet) title and established the rules for what was to be an ongoing relationship between nations. We respect the histories, language, and cultures of First Nations, Metis, Inuit, and all First Peoples of Canada, whose presence continues to enrich our vibrant community.
We acknowledge the importance of this land to reaffirm our commitment and responsibility in improving relationships between Nations and improving our own understanding of local Indigenous peoples and their cultures.
Program Venue
Accommodations
Please choose the guestroom location that works best for you.
Guest rooms offered at lowest available rate (No Group Block)
Please call the hotel directly at 1-833-357-8155 or visit the

website

to reserve.
or
Muir Hotel Halifax

Hotel group block rate under R2MR Train the Trainer
Guest rooms offered at a special rate of $250 + tax/night.
Please note: Block rate and room availability are only guaranteed until October 12, 2022. Muir Hotel will extend the rate past this date if there is space available.  Currently there are still guestrooms available.
Please call the hotel directly at

(902) 407-6847

to reserve.
Hotel / Venue Address
1990 Barrington St, Halifax, NS, B3J 1P2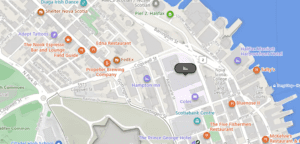 Directions / Transportation
Getting to the Hotel Halifax

It is a 31 minute drive from YHZ to the Hotel Halifax
Please note that there is paid underground parking at the Hotel Halifax

Transportation Options Available

Taxi service
Uber
Bus
Ferry
Rental car
Tourism
Time Zone
November Weather
Average: 0 °C
Average Low: -4 °C
Average High: 8 °C
COVID-19
To protect yourself and others, Public Health recommends that you wear a mask if you're in a crowded, indoor place or feel sick. If you have COVID-19 symptoms or have tested positive for COVID-19, Public Health recommends that you wear a mask if you can't self-isolate.
Existing Taxes
Restaurants Nearby
Tempo Food & Drink ($$-$$$)
Location: on site
Cuisine: Bar, contemporary, Canadian
Open: 

Sunday & Monday — 7:30 am – 11:00 am
Tuesday — 7:30 am – 2:00 pm
Wednesday – Saturday — 7:30 am – 2:00 pm & 5:00 pm – 9:00 pm
Sapori Italian Street ($$-$$$)
Location: 7 minute walk
Cuisine: Italian, vegetarian friendly
Open:

Daily — 11:30 am – 10:00 pm
Drift ($$$$)
Location: 8 minute walk
Cuisine: Canadian, seafood, contemporary
Open:

Daily — 7:00 am – 3:00 pm & 5:00 pm – 12:00 am
The Wooden Monkey ($$-$$$)
Location: 7 minute walk
Cuisine: Bar, healthy, Canadian
Open:

Sunday – Thursday — 11:30 am – 9:30 pm
Friday & Saturday — 11:30 am – 10:30 pm
Salty's ($$-$$$)
Location: 6 minute walk
Cuisine: Seafood, Canadian, vegetarian friendly
Open:

Daily — 11:30 am – 10:00 pm
Coffee Nearby
Grounded Coffee Bar ($$)
Location: 8 minute walk
Open:

Sunday — 9:00 am – 3:00 pm
Monday – Friday — 8:30 am – 4:30 pm
Saturday — 9:00 am – 3:00 pm
The Ville Caffeine Bar ($)
Location: 10 minute walk
Open:

Sunday — 8:00 am – 2:00 pm
Monday – Friday — 8:00 am – 3:00 pm
Saturday — 8:00 am – 2:00 pm
Weird Harbour Espresso Bar ($$)
Location: 8 minute walk
Open:

Sunday — 9:00 am – 4:00 pm
Monday – Friday — 7:00 am – 5:00 pm
Saturday — 9:00 am – 4:00 pm