Champions 2021 – Nicolas Deschamps
Champions 2021 – Nicolas Deschamps
Border Services Officer
Canadian Border Services Agency
View more Profiles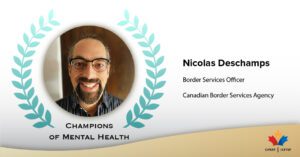 According to the 18 individuals who nominated Nicolas Deschamps, he is a Champion for Mental Health.  To them, Nicolas is the person who makes them smile when they need it, or is the one who provides a listening ear for their concerns. Nicolas is an active member of the employee assistance program, providing mental health training, sharing tools, and creating a specially designed room in which officers can relax. This room also allows for complete privacy for individuals who want to talk about their mental health.
Nicolas is a good listener, and he notices when he puts his listening skills to use, it seems to help his colleagues. For Nicolas, listening is critical.  He feels that public safety personnel are often blocked from dealing with their emotions because they are afraid to show vulnerability. Nicolas still sees stigma as the number one issue for PSP.  When asked about the supports he still feels are needed in PSP organizations, Nicholas is clear "more visibility, more promotion of mental health, and more availability of immediate supervisors."
In the airport where he works, everyone is going 100 Km/h, and sometimes good mental health requires a chance to slow down and breathe.  This is why Nicolas is proud of the "zen" room he set up. He knows it is a place where his co-workers can relax and take a break from the rhythm of their day.
Nicolas is also happy to use his voice at work. As a member of the EAP program and previously the union, he tries to keep up with all the latest information and supports available to his co-workers. His co-workers appreciate it, many nominators highlighted how Nicolas' sharing of his knowledge of resources and training has positively impacted their professional and personal lives.
Ultimately for Nicolas, however, it all comes back to listening to people who are having difficulties, and being available whenever he is needed, which is why he is a Champion for Mental Health.