News & Events
December 12, 2021
CIPSRT Launches New Guide to Help Support PSP Experiencing Mental Health Issues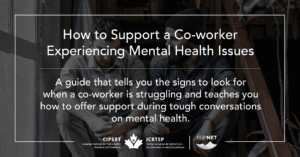 To view or download the guide, click here.
Many Public Safety Personnel (PSP) feel alone when facing mental health challenges. Their concerns about stigma can prevent PSP from reaching out for support. Co-workers can be a source of support since they understand the pressures and stressors of PSP work. However, many co-workers don't know where to begin helping someone struggling with mental health issues. That is why the Canadian Institute for Public Safety Research and Treatment, in partnership with the clinical team at PSPNET, has developed a new guide called How to Support a Co-worker Experiencing Mental Health Issues.
How to Support a Co-worker Experiencing Mental Health Issues was developed based on feedback from the CIPSRT Public Safety Steering Committee and suggestions from PSPNET clients who wanted to understand how to share their mental health journey and support others who may be facing similar challenges.
The new guide identifies the signs to look for in a co-worker who might be struggling and then offers ideas and strategies to support them. Talking about mental health is challenging, and the stigma in PSP organizations can make having mental health conversations difficult. Co-workers are an essential source of support that can break thru the barrier of stigma that can exist within PSP organizations.
"Co-workers are often amongst the first to notice when someone is struggling, and because of the nature of their work, PSP are more likely to open up to peers who understands their situation. We designed this guide to make those conversations easier," said Dr. Jody Burnett, Clinical Research Associate with PSPNET.
For more information, please get in touch with our Knowledge Manager Emilie Kossick, Emilie.Kossick@uregina.ca.
___________________________________________________________________________
CIPSRT (Canadian Institute for Public Safety Research and Treatment), located at the University of Regina in Saskatchewan,  serves as the Knowledge Exchange Hub to help current public safety personnel, their leaders and their families to maintain and improve their mental health and well-being.
PSPNET is offering and evaluating internet-delivered cognitive behaviour therapy, also known as ICBT, specifically tailored for current and former Public Safety Personnel (PSP). PSPNET is now accepting PSP residing in New Brunswick, Nova Scotia, Quebec, and Saskatchewan interested in therapist-guided ICBT.  Self-guided ICBT is available to all PSP in Canada.