News & Events
November 17, 2020
CIPSRT Scientific Director awarded the Royal-Mach-Gaensslen Prize for Mental Health Research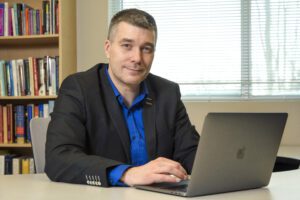 University of Regina Professor of Psychology and Scientific Director of the Canadian Institute for Public Safety Research and Treatment (CIPSRT), Dr. R. Nicholas Carleton has been awarded the 2020 Royal-Mach-Gaensslen Prize for Mental Health Research. Dr. Carleton will be honoured as the 2020 award recipient during a virtual event on December 3, 2020.
The Royal-Mach-Gaensslen Prize for Mental Health Research was established in 2015 by The Royal's Institute of Mental Health Research and the Mach-Gaensslen Foundation of Canada. Each year, for ten years, the prize is awarded to an outstanding researcher in the field of mental health.  The award aims to highlight excellence in research, innovative thinking, originality and the ability to work in partnership with peers and stakeholders.
"Given Dr. Carleton's nationally and internationally recognized academic expertise in post-traumatic stress injury research, it is entirely fitting that he is the recipient of this award." said Dr Nicholas Jones, Interim Executive Director for CIPSRT at the University of Regina, "He brings that expertise and passion to his role as Scientific Director of CIPSRT, and through their work he and his CIPSRT colleagues will make a positive difference in the lives of public safety personnel across Canada for years to come."
Dr. Carleton is one of the founders of CIPSRT and serves as the Scientific Director, which involves helping other researchers to succeed in supporting public safety personnel everywhere.  The Canadian Institute for Public Safety Research and Treatment is a national network based at the University of Regina and supported with funding from Public Safety Canada. CIPSRT's goal is to improve the lifetime wellness of public safety personnel, their leadership, and their families through collaborative research, knowledge exchange, and strategic partnerships.
Dr. Carleton has received a number of research grants and awards for various studies focussed on post-traumatic stress injuries and improving the health and well-being of Canada's public safety personnel.
---
To learn more about the award, the funding institutions, and previous recipients, please visit: https://www.theroyal.ca/research/about-research/awards-conferences/royal-mach-gaensslen-prize-mental-health-research.
https://www.theroyal.ca/news/transformational-work-well-being-public-safety-personnel-wins-dr-r-nicholas-carleton-2020
http://mach-gaensslen.ca/2020/11/17/nicholas-carleton-wins-6th-annual-royal-mach-gaensslen-prize/
https://www.uregina.ca/external/communications/releases/current/nr-11172020.html
---
To learn more about the University of Regina, please visit: https://www.uregina.ca