News & Events
May 4, 2023
Launch of the new pspmentalhealth.ca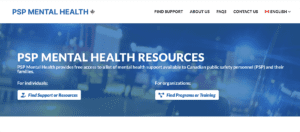 Starting today, pspmentalhealth.ca has a brand new look and feel!
The website has undergone a complete overhaul. The website allows for quick, intuitive identification of resources for public safety personnel (PSP) or their families who are experiencing distress, while providing additional information that may help to inform longer-term decision-making.
Some other notable changes to the website include:
Full service in both French and English
Updated and expanded programming and resource listings
New, in-depth filters to tailor results to users' specific needs
An improved comparison tool, allowing users to compare different services
Streamlined process for current and new organizations to submit their program updates
Dr. R. Nicholas Carleton, Scientific Director at CIPSRT, echoes the need for PSP to have access to evidence-based resources that support the mental health and wellness of the community of individuals who work to keep Canadians safe. "The website has become extremely popular, with several requests for additional features and details. The funding ensures that the PSP community can continue accessing resources to support their mental health."
We encourage everyone to experience the new site for themselves at: pspmentalhealth.ca.
The redesign of the website was made possible thanks to the generosity of the Public Health Agency of Canada (PHAC), and is the result of months of work of researchers, web designers, and IT professionals, to name a few.
CIPSRT would also like to thank the Atlas Institute for Veterans and Families for their support and engagement with this project. As a project partner, the Atlas Institute is working to make information collected about peer support services for Canadian Armed Forces Veterans and their families more readily available. The Atlas Institute is creating an online repository that can allow Veterans and their Families to compare and contrast peer support services in their area. This resource will be available on the Atlas website in the coming months.
---
About CIPSRT
As part of the National Research Consortium, CIPSRT serves as the Knowledge Exchange Hub for knowledge synthesis, translation, and exchange that relies upon the best contemporary research evidence supporting an overall mission to help current and former public safety personnel, their leaders, and their families to maintain and improve their mental health and wellbeing.