Completed Projects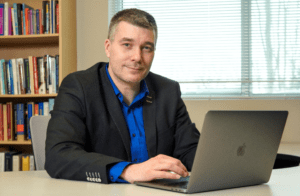 Dr. R. Nicholas Carleton, University of Regina
Title of research
Compromised conscience: Towards managing moral injuries in public safety personnel
Summary
Public safety personnel (PSP) must make difficult decisions, quickly, and often in high-stress environments. These decisions, such as shooting a suspect or choosing which citizen to rescue, can go against the PSPs' internalized ethical principles. Conflict of beliefs can lead to psychological harm and has been called a moral injury. Research has demonstrated that even witnessing a colleague or a person in authority commit an act against ethical principles, even without consequences, can cause moral injury.
The goal of the current study is to develop and pilot test a course on moral decision-making for PSP. The study will be conducted in four stages:
1) A focus group with PSP representation from multiple sectors development of the course
2) Course delivery to approx. twenty-five participants with pre/post questionnaires that will assess moral injury, posttraumatic stress, resiliency, work culture, hardiness, and self-compassion.
3) Follow-up interviews will allow for in-depth feedback that will be recorded and transcribed for analysis.
4) A focus group to review/revise the course.
If the project is successful, the results will reinforce the idea that training can support PSP struggling with moral injuries. The developed course can then be rolled out to a larger group for further testing and refinement.
When to expect results
Preliminary information on the study will be presented at the end-of-grant workshop.
Research team
Dr. R. Nicholas Carleton, Scientific Director of CIPSRT and Professor of psychology at the University of Regina; Dr. David Malloy, Principal of King's University College; Dr. Rose Ricciardelli, Professor of sociology at Memorial University; Dr. Greg Anderson, Dr. Lorraine Smith-MacDonald PhD, Postdoctoral Fellow, University of Alberta, Dr. Liana Lentz PhD – Public Health, Postdoctoral Fellow – Western University School of Health Studies.
Final Results
Final Knowledge Translation Report
Papers resulting from the research
Lentz,L.M., Smith-Macdonald, L., Malloy, D., Carleton, R.N., & Bremault-Phillips, S. (2021). Compromised Conscience: A scoping review of moral injuries among firefighters, paramedics, and police officers. Frontiers in Psychology, March 31, 2021. https://doi.org/10.3389/fpsyg.2021.639781.
Smith-MacDonald, L., Lentz, L., Malloy, D., Bremault-Phillips, S., & Carleton, R. N. (2021). Meat in a Seat: A Grounded Theory Study Exploring Moral Injury in Canadian Public Safety Communicators, Firefighters, and Paramedics. International Journal of Environmental Research and Public Health, 18(22), 12145. MDPI AG. Retrieved from http://dx.doi.org/10.3390/ijerph182212145