News & Events
March 15, 2023
Virtual Town Hall: The Sky Resilience Program: Meditation Training for First Responders
Date & Time:
11:00 am – 12:00 pm CST (1:00 pm EDT)
Description:
The SKY Resilience Program transforms lives by optimizing mental readiness for action while at the same time restoring wellbeing, mental focus and a renewed sense of resilience, connection and purpose. The program is evidence-based and delivered by the International Association for Human Values, a registered Canadian charity, holding special consultative status with the UN Economic and Social Council. The core technique of the SKY Resilience Program is Sudarshan Kriya (SKY) which is a breathing-based meditation that can help improve symptoms of PTSD.
Currently, researchers at the University of Toronto, in partnership with the RCMP, and the Atlas Institute for Veterans and Families are examining the effectiveness of delivering the program virtually. The findings from this study will help organizations that work with First Responders and Canadian Veterans better understand how the SKY Resilience Program can be of benefit to their clients and members, and help support future programming and treatment planning.
Presenters:
Dr. Abhimanyu Sud
Chief Scientific Officer, The Chronic Pain Center of Excellence for Veterans, and President, International Association for Human Values
Abhimanyu Sud (MD CCFP) is an Assistant Professor at the Temerty Faculty of Medicine, University of Toronto, Research Chair, Primary Care & Population Health Systems at Humber River Hospital, Chief Scientific Officer at the Chronic Pain Center of Excellence for Canadian Veterans, and President of the International Association for Human Values (IAHV). He has volunteered for IAHV for many years including in the areas of sustainable development and physician wellness. He is proud to be serving as a President to support all the wonderful work of the organization in Canada and internationally.
Spencer Delisle
Vice President, International Association for Human Values (IAHV)
Spencer brings 15 years of international management and facilitation experience, and has lead resilience building, self mastery, emotional intelligence, team connectedness workshops and coaching for hundreds of leaders and teams including the Government of Canada, and Iraq, the European Parliament, Google, Intuit, GE, TD, FSRA, Ford, FIFA, WTA, Troy Michigan, Police, London Police Association, United States Armed Forces and Canadian Armed Forces. Formerly involved in academic research at Mount Allison, and McGill University in the fields of oncology and cardiology respectively, he has also worked on the corporate side of science in marketing with Novartis Pharmaceuticals, and is a certified Executive Coach. He has been the lead instructor on multiple research studies examining the effects of Meditation and Breathing Techniques, is a member of the WSIB Communities of Practice Prevention and Early Detection Working Group, and currently sits on the PTSD Advisory Committee at Mount Sinai Hospital in partnership with the University of Toronto, and Atlas Institute for Veterans and Families.
Marcel Queiroz
Executive Director, SKY Resilience Program
Marcel has worked for the last 10 years with Trauma Relief Projects, Prison Programs and teaching first responders. As a Pharmaceutical Sciences Researcher who benefited from the program, Marcel is working on assessing the efficiency of SKY intervention in first responders using biomarkers such as cortisol and oxytocin. He has overseen global initiatives that impacted more than 3000 officers and has trained teachers in Brazil, Argentina, Mexico, Chile, South Africa, Philippines and the United States. Marcel also works as a Metrology and Quality Analyst for the National Institute of Metrology, Standardization and Industrial Quality (INMETRO), a Brazilian federal autarchy, linked to the Ministry of Development, Industry and Foreign Trade responsible for improving the entire productive sector. His passion and experience are to accelerate institutional change in public and private institutions, focusing on individual resilience, stress relief, human-centered leadership, productivity, and personal management.
Steve Stokan
Ret. Constable, London Police Service

Steve is a retired Constable who served 30 years with the London Police Service. He is a Current Peer Support Leader, SKY Resilience Graduate, and Volunteer, Mental Health for First Responders Community of Practice Member. He has lived experience with Operational Stress Injury, Posttraumamtic Stress Disorder, and burn out.
This session will be presented in English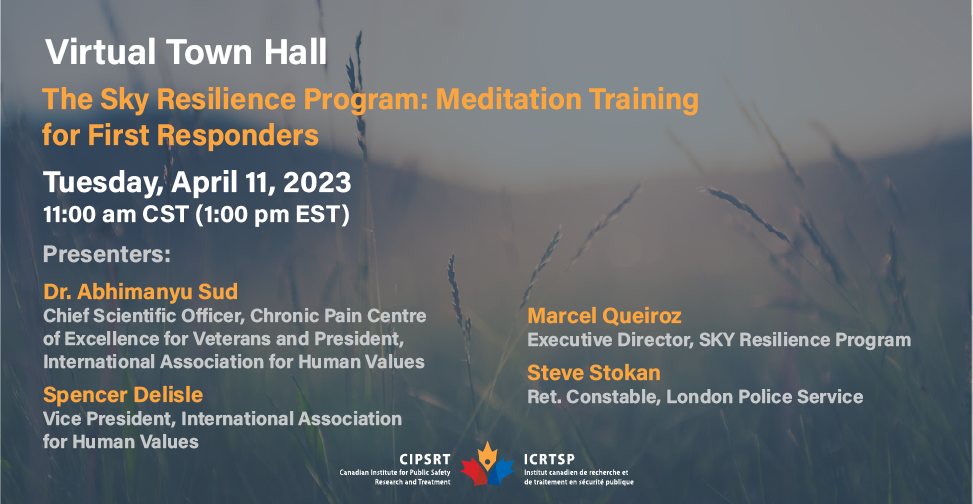 Archive