CIPSRT COVID-19 Readiness Resource Project (CRRP)
CIPSRT COVID-19 Readiness Resource Project (CRRP)
COVID-19 resources for public safety personnel
The COVID-19 Readiness Resource Project (CRRP) was transitioned to a maintenance phase, effective September 9, 2020. Ongoing maintenance of the CRRP website is being conducted by administrative staff within the CIPSRT Knowledge Hub. The project continues to be directed by the current CIPSRT COVID-19 Leadership Taskforce.
Additional information will continue to be updated on the CRRP website on an as-needed basis as new information and/or guidelines become available that are relevant to PSP. The website will be updated monthly. All CRRP material developed prior to September 9, 2020, will be re-distributed and packaged in order to respond to future challenges that PSP encounter in response to the COVID-19 pandemic. We invite you to please contact COVID19@cipsrt-icrtsp.ca with any feedback, questions, and/or suggestions that you may have.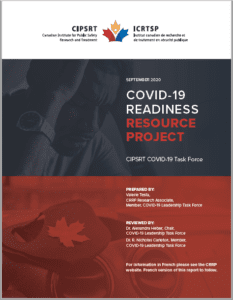 ---
The COVID-19 crisis is affecting all Canadians. Public safety personnel (PSP) are doing essential work on the front lines — and you need and deserve the best support for your mental and physical health.
At CIPSRT, we're working hard to provide accurate, reliable, up-to-date and credible information and resources for PSPs through the COVID-19 Readiness Resource Project (CRRP).
The CRRP provides practical guidance and advice on how to control the spread of the virus, have conversations with children and family members about the pandemic, protect your mental health, and much more. The information presented here is based on the latest scientific insights from the Government of Canada as well as academic sources. The resources available are grouped into categories that are accessible along the left-hand side of each page.
The content on this site is updated regularly for clarity and accessibility by the CRRP Task Force. Its leadership includes:
Alexandra Heber, MD, FRCPC, CCPE; Chair, CRRP Task Force
Valerie Testa, B.A. (Hons.), B.Ed., OCT, CCRP, MSc Student; CRRP Research Associate, CIPSRT
R. Nicholas Carleton, Ph.D., R.D. Psych; Scientific Director, CIPSRT
Donna King, Executive Director, Collaborative Centre for Justice and Safety, University of Regina
Learn more about the many researchers and clinicians who contributed to the CRRP.
If you have questions or suggestions about information, resources, or topics you'd like to see addressed by the CRRP, please contact us at: COVID19@CIPSRT-ICRTSP.ca.
Reach out for support
While the resources in this collection can help you manage stress, they are not intended to replace healthcare services. If you are experiencing a mental health crisis, please contact 911 immediately or go to your nearest emergency department.
Other resources include:
Looking for a way to support PSPs?
We worked with our PSP partners to create a short video titled "Help Us Help You." It provides helpful tips straight from PSPs on how the public can support them.
---